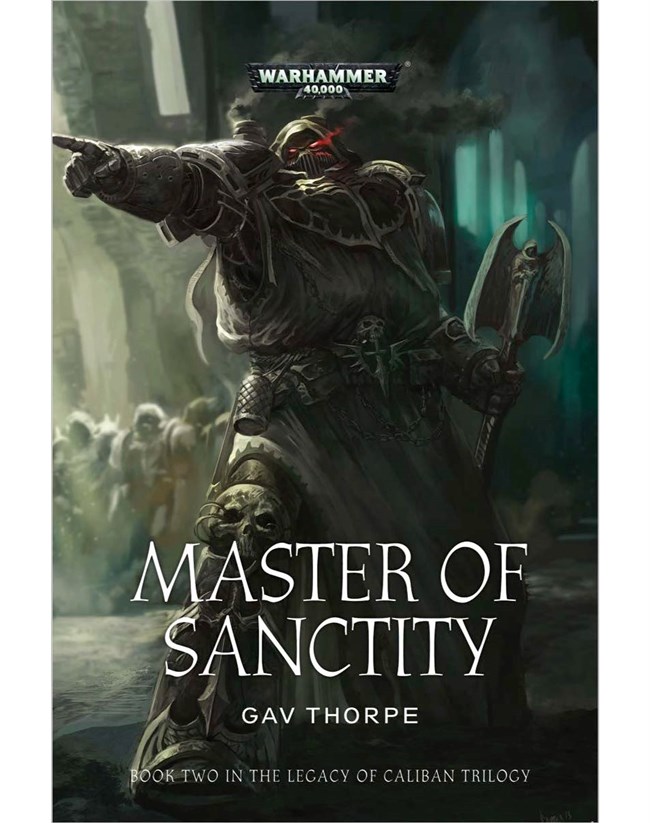 You can get this book here: LINK
I was away for work for a week and didn't get much physical hobby stuff done. Now that I am back I'm gearing up with more painting and plotting.
Always with the plotting...
I have been reading though about my favorite guys the 'Dark Angels' or as a xenos I know calls them... beakies in robes.
Many people have already bought and read this book and done reviews. I'm just an average guy though and wanted to write down a few thoughts about Gav Thorpe and the Legacy of Calaban trilogy.
Gav Thorpe will never remember but a few years past a forum I still belong to created a thread where the members could ask Gav questions and he would reply. I asked about a singular thought or idea to keep in mind when it comes to his writing about the Dark Angels. I was fortunate that he replied.
Like Gav Thorpe's answer to me, and when reading about the marines from Calaban, you have to remember one key point... The Dark Angels are obsessed with the Fallen. They are loyal but they can't get past, well, the past. And it gets them into trouble. ( my thought not Mr. Thorpes)
'Master of Sancitity' is the second book in the trilogy after the first 'Ravenwing'. The third book will be out in 2015 and well be called 'Unforgiven'.
Simply, the book is ok. It's an easy read. Thorpe doesn't do dialogue like other authors and many people don't enjoy how he writes. I'm ok with his style and the story but I'm biased since I like the Dark Angels. I view them as the other side of the coin from the Space Wolves... probably why they don't get along most of the time.
What I enjoyed the most about the book is the look we get at how recruits are brought into the circle of the Ravenwing and the Deathwing. Gav gives us more detail to their inner workings then we have had in the past. Yes, things are still a secret but the marines in those two companies KNOW that things are being kept from them and know why.
This book follows a couple of minor characters that are initiated intot he upper levels of the Dark Angels Chapter but mostly compares and contrasts two notable figures in the hobby and lore... Master of Sanctity Saphon and Interoogator Chaplain Asmodai. Their roles are clearly defined but on many occasions come to a head.
I like the relentlessness of Asmodai's character yet also like the forethought of Saphon. The two positions characters balance each other out. Saphon is a leader with differing qualities then the taskmaster of Asmodai. They work like sandpaper more often then naught.
For hard-core wirters and fans I suspect they won't enjoy the book. It's ok. It is not a 'Fulgrim' or a 'Mechincum'. Remember... not everyone can be an ADB! (Shamelessly stolen from a friend!)
I don't want to spoil anything, but I'm just bursting, so I will leave you with this...
'You may call me by my title..."
You will have to read the book yourself to find out what happens.
CK